Hi, my name is Rosemary Peel. I am a wife, mother and grandmother.
I am English and live in the beautiful county of Yorkshire. An author, artist and poet, I write in many different genres, including children's fiction, adult fiction - novels and poetry, and also astrology books. My favourite painting medium is oils, but I also dabble in the occasional watercolour and pastel drawing.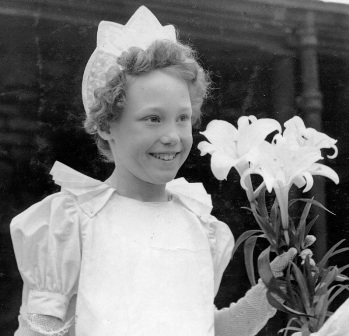 Although this is rather an old photograph, it still represents the real me. Despite the years I hope that I will always remain young at heart.
My book, Astology & Heredity, published in 1994/5 by Blandford Press, is now out of print, but some copies are still available from specialist booksales over the internet.
I have 17 e-books available at Smashwords.com and also on Kindle:
THE FLUFF GANG AND THE NEW NEIGHBOUR
ALFIE GOES TO UNI
JUST JOE
THE FLUFF GANG
PC MOUSE
THE BLACKBIRD THAT COULDN'T SING
HONK THE DONK
A PRICKLY PROBLEM
THE BUTTERFLY THAT LAST A SPOT
THEY'RE NOT REAL, GRANDMA
BOOK AT BEDTIME an omnibus of stories and poems
The above books are aimed at younger children (age range from 6 to 10)
TIME LINE
OCTINNIA, BOOK ONE: THE ADVENTURE BEGINS
These books are aimed at older children (10's to 15's +)
THE POTTERY FISH POETRY COLLECTION
An adult poetry collection in various styles both modern and traditional
LUST, LOVE AND LIES (see Slideshare.net, Lust, Love and Lies)
This is a full length adult novel exploring human relationships as people, attitudes and times change. It is set in the twenty-first century but backtracks through decades of the previous one as lives and secrets are revealed.
THE FORGOTTEN PLANET
A look at the place Earth plays in astrological analysis and an examination of human relationships in an attempt to discover why we intantly take to some people but not to others.
MY DYSLEXIC JOURNEY
The pros and cons of being born Dyslexic, written from personal experience.
All my titles are available from www.http/smashwords.com and also as Kindle e-books.